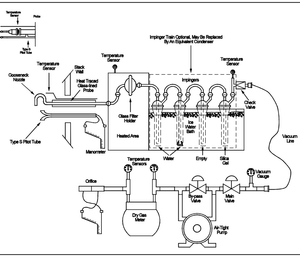 USEPA Method 5 Basic Set

Meets or exceeds the following methods/laws/requirements:
US EPA Method 5:
Section 6.1 (Sample Collection) but excluding section 6.1.3: Gas Density Determination Equipment (Gas Analyzers) and chemicals (silica gel, deionized distilled water, ice, acetone)
Section 6.2 (Sample Recovery - except balances).

Product Description
Start isokinetic sampling (smoke-stack testing) using US EPA Method 5 (Particulate Matter or Dust) upon unpacking. This set uses Aer Sampling's Standard Configuration where the full-length heating box—MKORTM Heater Box (Hot Box), the Box Extender (Riser Box) and the Impinger Box (Cold Box) is hung onto a monorail and move in or out the porthole of the chimney/stack, while traversing the smoke-stack.
Other Applicable Documents:
N.A.
Product Specifications
Minimum porthole inside diameter needed: ~4 in. (10 cm)
Voltages:
100-127 V / 60 Hz --- S-48
220-240 V / 50 Hz --- S-28

Other Information
Consider buying additional glassware in case of accidental breakage during sampling.
Consider buying transport cases if you will be traveling too far from your main offices.
All our product sets come with a Guaranteed-Complete promise. And all our products come with a one-year warranty against manufacturing defects and one-month technical support for free. Please refer to our Frequently Asked Questions (FAQs) page for more details.
-----
Information presented here is subjected to Aer Sampling Group's terms and conditions.
In case of discrepancy between English version and the non-English version, the English version shall prevail.
Doc ID: AERHQWW-s-48-en
Last revised (Excluding prices): 0; 03.02.21

| | | |
| --- | --- | --- |
| Catalog ID | Catalog/Product Name | Obsolete Catalog IDs |
| S-48 | 100-127V USEPA Method 5 Basic Set | - |
| S-28 | 220-240V USEPA Method 5 Basic Set |  US-M5 |

-----
Bill of Materials (BOM)
What does this product contain? (r6/r13):
The following items are included. Click the Catalog ID below to view individual components of this product.
S/N
Catalog ID

Quantity
Item Name

1
K-150
x1
Critical Orifice Kit

 

[

EACH]

2
K-151
x1
Double "L" Connector with Thermocouple
Assembly Kit

 

[

EACH]

3
K-156
x1
Glass Filter Holder Kit, 3"

 

[

EACH]

4
K-157
x1
Glass Nozzles Kit [

EACH]

5
K-164
x1
Nozzle Brush Kit [EACH]
6
K-171
x1
Greenburg Smith Impinger Insert Kit

 

[

EACH]

7
K-173

x3
Plain Impinger Insert Kit

 

[

EACH]

8
K-180
x1
Cyclone Bypass, glass, with o-ring Kit [EACH]
9
K-182

x1
Bull's Eye Level Kit

 

[

EACH]

10
K-184
x1
Plain Glass Probe Liner Kit, 6ft [EACH]
11
K-191

x1

Nozzle Fittings Kit, 16mm [EACH]
12
K-210
x1
Type K Thermocouple Simulator Kit [EACH]
13
PN-321
x1
Angle Indicator

 

[

EACH]

14
PN-342

x12
Ball Joint Clamp #28

 

[

EACH]

15
PN-357 or PN-1278
x1
Leak-Free Stack Testing Pump Assembly 


[

EACH]

16
PN-364 or PN-876

x1
Probe Heater, 6' [EACH]
17

PN-379

x1
Umbilical Cable Adapter Assembly

 

[

EACH]

18
PN-380
x1
Impinger Box Assembly, Large

 

[

EACH]

19
PN-385
x3
Bottle, LDPE, Wide Mouth, 1 Liter [EACH]
20
PN-388
x1
Barometer [EACH]
21
PN-389

x2
Wash Bottle, LDPE, 250ml

 

[

EACH]

22
PN-391
x1
Graduated Cylinder, Glass, 100ml [EACH]
23
PN-395
x1
Glass Fiber Filters, Round, 82mm

 

[

EACH]

24
PN-401
x1
Probe Brush Head, PTFE

 

[

EACH]

25
PN-403
x1
Probe Brush Extension, 6ft [EACH]
26
PN-412

x2
Funnel, PE

 

[

EACH]

27
PN-418
x1
Tweezer, SS [EACH]
28
PN-493

x4
Glass Impinger Bottle, 500ml

 

[

EACH]

29
PN-605

x3
Impinger Connector, glass

 

[

EACH]

30
PN-639

x3
Petri Dish, Glass, 3"

 

[

EACH]

31

PN-953

x1
Manual, MREK Series Console [EACH]
32
PN-1381

x1
Probe Sheath, 6ft [EACH]
33
PN-1379
x1
Umbilical Cable Assembly, 100ft,
w/o Orsat line [EACH]
34
PN-1272 or PN-1342


x1

MREK 504 Meter Console Assembly

 

[

EACH]

35
PN-1279 or PN-1382
x1
MKOR Heater Box and Box Extender
Assembly [

EACH]

36
PN-773
x5
Calibration of Critical Orifice [EACH]
37
PN-1483
x1

Calibration of Dry Gas Meter [EACH]

38
PN-1484
x1

Calibration of Temperature Sensor [EACH]
---
We Also Recommend