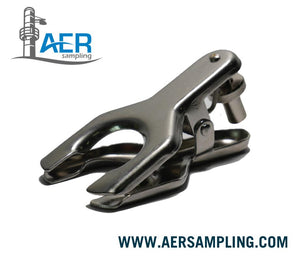 Ball Joint Clamp S28 --- PN-342
Description
To clamp tight #28 (28mm ID) sized ball joints with #28 sized sockets to minimize leaks.
Specifications/Material/Measurements:

Stainless steel
Purpose and how to use? Relationship to other products?
Clamp a #28 ball joint and a #28 socket together and screw tight. You may also use silicone/stopcock grease on the glass surfaces touching each other (i.e. inside the socket).
In the right environment, water works fine too (in place of the grease) to minimize leaks and it is easier to clean as well.
Relevant texts/methods/requirements:
N.A.
Additional ordering/shipping procedures:
None. Please refer to the FAQs page for shipping and other charges.

--
Information presented here is subjected to Aer Sampling Group's terms and conditions.
Doc ID: AERHQWW-pn-342-en
Last revised (Excluding prices): 2; 09.15.20
Previous (Obsolete) Catalog ID: UG-BJC
---
We Also Recommend