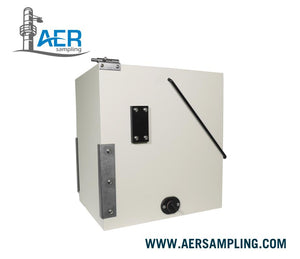 Impinger Box Assembly, Large --- PN-380
Description
Box to hold up to 8 impingers. Comes with pre-cut foam to hold impingers in place and spout to drain water at bottom.


Specifications/Material/Measurements:
N.A.
Purpose and how to use? Relationship to other products?
Also called the "cold box", this product is used to hold impingers and the ice bath that they are immersed in. The ice bath cools the gas flowing through the sampling train so that moisture is condensed and measured.
Removing the moisture also helps protect the dry gas meter.
Relevant texts/methods/requirements:
Section 6.1.1.8 (Condenser), USEPA Method 5
Figure 11 (Impinger Bath Area), APTD-0581: Constructions Details of Isokinetic Source Sampling Equipment
Section 6.2.7a1 (Condenser), ISO 9096:2003(E)
Section 6.2.7b1 (Condenser), ISO 9096:2003(E)
Additional ordering/shipping procedures:
Impingers not included.
Please refer to the FAQs page for shipping and other charges.


--
Information presented here is subjected to Aer Sampling Group's terms and conditions.
Doc ID: AERHQWW-pn-380-en
Last revised (Excluding prices): 2; 09.17.20
Previous (Obsolete) Catalog ID: UO-BB
---
We Also Recommend