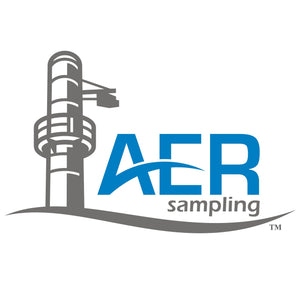 USEPA SW-846 VOST Method 0031 (Add-on) Set
Meets or exceeds the following methods/laws/requirements:
US EPA SW-846 Test Method 0031:
Section 1.8
Section 4.1 (Sampling train) excluding section 4.1.4.3 and chemicals (Tenax®-GC, Anasorb®-747, and charcoal)
Section 4.2 (Solverall® washers)
Section 7.3.2

Product Description
Start your sample collection (non-isokinetic smoke-stack testing) using US EPA SW-846 Test Method 0031 (Sampling Method Volatile Organic Compound or SMVOC) upon unpacking. This sampling train which also better known as the Volatiles Organic Sampling Train (VOST), can be used to sample for both Volatile Principal Organic Hazardous Constituents (POHCs - boiling points less than 212 ºF / 100 ºC) in Test Method 0030 and those Volatile Organic Compounds (VOC) mentioned in Test Method 0031 (boiling point between -59 ºF / -15 ºC and 250 ºF / 121 ºC).
It is used to collect a 20-L sample of flue gas emitted by stationary sources of air pollution, such as hazardous waste incinerators. It operates at a sampling rate of 1 L/min and requires trap replacement every 20 minutes for a total sampling time of 2 hours. The traps are then analysed using thermal desorption purge-and-trap gas chromatography/mass spectrometry.
Requires some items from the USEPA Method 5 Basic Set to function.
Other Applicable Documents:
N.A.
Product Specifications
Minimum porthole inside diameter needed: ~1.75 in. (45 mm)
-----
Click on the links in the BOM tables below to view the specifications of individual components of this product.

Other Information
Reagents and chemicals (i.e., Tenax®-GC, Anasorb®-747, charcoal, and silica gel) are NOT included.
All our products come with a one-year warranty against manufacturing defects and one-month technical support for free. Please refer to our Frequently Asked Questions (FAQs) page for more details.


-----
Information presented here is subjected to Aer Sampling Group's terms and conditions. 
In case of discrepancy between English version and the non-English version, the English version shall prevail.
Doc ID: AERHQWW-s-45-en
Last revised (Excluding prices): 0; 07.09.21
Obsolete Catalog ID: US-VOST
-----
Bill of Materials (BOM)

What does this product contain? (r6):
The following items are included. Click the Catalog ID below to view individual components of this product.
S/N
Catalog ID
Quantity
Item Name
1
PN-1053
x1
VOST Glassware Case Assembly [EACH]
2
PN-731
x1

220-240 V, Miniature Probe with Heater Assembly

[

EACH]

3
PN-856
x1
3ft Glass Probe Liner with Cup [

EACH]

4
PN-1048
x1
Mini Submersible Pump Assembly, 220-240V [EACH]
5
PN-912
x1
External Rotameter Assembly 

[EACH]

6
PN-862
x1
3-Way PTFE Stopcock 

[EACH]

7
PN-865
x1
Silica Gel Trap [EACH]
8
PN-863
x2
Vertical Condenser [EACH]
9
PN-864
x1
Water Trap [EACH]
10
PN-866
x4
Empty Adsorption Cartridge [EACH]
11
PN-910
x1
6 mm PTFE Straight Union [EACH]
12
PN-867
x2
16x8 mm Silicon Sealing Ring [EACH]
13
PN-423
x5

16x6 mm Silicon

Sealing Ring [EACH]
14
PN-424
x5
Thermocouple Screw Cap [EACH]
15
PN-351
x12
Submersible Pump Tubing [FT]
16
PN-798
x2
PFA Tubing [FT]
17
PN-967
x1
Handy Power Box Assembly with Support [EACH]
What does this product need to work? (r6):
Items not included in this set/kit but are needed to make this set/kit works. We assume you already have the items below 
S/N
Catalog ID
Quantity
Item Name
1
S-28
S-48
x1

USEPA Method 5 Basic Set [EACH]
---
We Also Recommend