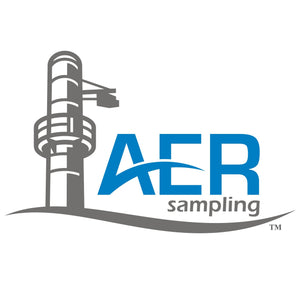 External Rotameter Assembly --- PN-912
Meets or exceeds the following methods/laws/requirements:
Section 1.8, US EPA SW-846 Test Method 0031
Section 4.1.5 (Metering System), US EPA SW-846 Test Method 0031

Product Description
A calibrated rotameter that allows for measuring and monitoring sample gas's flowrate in US EPA SW-846 (VOST) Test Method 0031.
Connect the rotameter's inlet tubing to the VOST glassware case and the outlet tubing to the metering console to begin sampling.


This product connects to the following (non-exhaustive) list of products from Aer Sampling:
Aer Sampling VOST Glassware Case Assembly
Aer Sampling Meter Console
Aer Sampling Umbilical Cable Assembly
Other Applicable Documents:
N.A.
Product Specifications
Tubing connection:
Inlet: 1/2 inch quick connects body
Outlet: 1/2 inch quick connects stem
Material: 
Body: Nylon
Base: 304 Stainless steel
Quick connects/couplings: 316 Stainless steel
Monitoring range: 0.2 - 1.2 LPM air
Weight (Gravitational): lbs / kg
Packing dimensions (Length x Width x Height):
English (inch): 
Metric (cm):

Other Information
All our products come with a one-year warranty against manufacturing defects and one-month technical support for free. Please refer to our Frequently Asked Questions (FAQs) page for more details.


-----
Information presented here is subjected to Aer Sampling Group's terms and conditions.
In case of discrepancy between English version and the non-English version, the English version shall prevail.
Doc ID: AERHQWW-pn-912-en
Last revised (Excluding prices): 1; 08.01.22
Obsolete Catalog ID: -
---
We Also Recommend