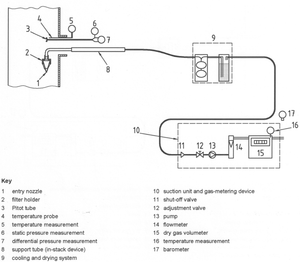 ISO 9096 In Stack (Add-on) Set --- S-41
Description
Add-on to the ISO 9096 method sampling set. Enables in-stack filtering. Please purchase the ISO 9096 Method Sampling Set (S-40) to use this add-on.

--
Information presented here is subjected to Aer Sampling Group's terms and conditions.
Doc ID: AERHQWW-s-41-en
Last revised (Excluding prices): 2; 09.11.20
Previous (Obsolete) Catalog ID: ZS-9096N
_________________________________________________________________________________
Components (r0):
The following items are included. Click Catalog ID to visit individual product page.
S/N
Catalog ID
Quantity
Item Name
1
PN-327
x1
In Stack Filter Holder, Stainless Steel

[EACH]

2
PN-331

x1

Handy Power Box Assembly

[EACH]

3
PN-333

x1

Strain Relief Assembly, In Stack Filter Holder

[EACH]

4
PN-383

x1

Strain Relief Assembly, Impinger Inlet

[EACH]

5
PN-396

x1

Glass Fiber Filters, Thimble, 25x90mm

[EACH]

6
PN-335

x1

Unheated Sampling Line, Handy

[EACH]

7
PN-371

x1

Probe Liner Assembly, Full Flow, Stainless Steel, 6ft

[EACH]
Required Items (r0):
Items not included in this set/kit but is needed to make this set/kit works. We assume you already have the items below.
| | | | |
| --- | --- | --- | --- |
| S/N | Catalog ID | Quantity | Item Name |
| 1 | S-40 | x1 | ISO 9096 Standard Set[EACH] |
---
We Also Recommend