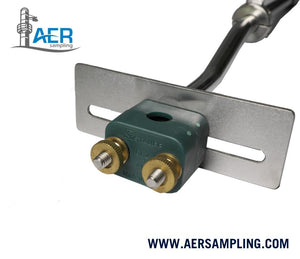 Strain Relief Assembly, Impinger Inlet --- PN-383
Description
For use in Aer Sampling's Flexible and Handy Configurations to minimize strain on Unheated Sampling Lines when connecting to first impinger.


Specifications/Material/Measurements:
Stainless steel
Fits 1/2" OD tubes
Purpose and how to use? Relationship to other products?
Used in Aer Sampling's USEPA Method 5 Flexible Configuration and Handy Configuration Sampling Train. Just slot into Impinger Box and clamp Unheated Sampling Line down to use.
Use strain reliefs to minimize leaks in various parts of sampling trains due to excessive movement/vibrations.
Relevant texts/methods/requirements:
N.A.
Additional ordering/shipping procedures:
Impinger Boxes and Unheated Sampling Lines sold separately.
Please refer to the FAQs page for shipping and other charges.


--
Information presented here is subjected to Aer Sampling Group's terms and conditions.
Doc ID: AERHQWW-pn-383-en
Last revised (Excluding prices): 2; 08.07.20
Previous (Obsolete) Catalog ID: UO-S
---
We Also Recommend