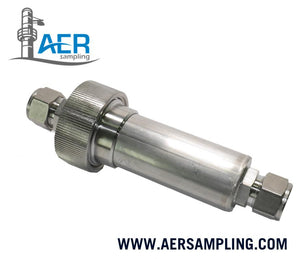 In Stack Filter Holder, Stainless Steel --- PN-327
Description
For use when in-stack filtering is desirable. Filters NOT included.
Specifications/Material/Measurements:
316 stainless steel
Purpose and how to use? Relationship to other products?
"Out of stack" filtering system can be cumbersome to handle, so in (point) sources of air pollution (i.e. chimneys/stacks) where particulate matter (solid particulates) concentration is known to be independent of temperature, it is desirable to eliminate the heating systems and to sample at stack temperatures.
This also reduces the amount of work in the "sample recovery" phase (i.e. less surfaces upstream of the filter).
Relevant texts/methods/requirements:
Section 6.1.2 (Filter Holder), USEPA Method 17
Section 6.2.1a ("In-stack" filtration devices), ISO 9096:2003(E)
Additional ordering/shipping procedures:
Filters sold separately.
Please refer to the FAQs page for shipping and other charges.

--
Information presented here is subjected to Aer Sampling Group's terms and conditions.
Doc ID: AERHQWW-pn-327-en
Last revised (Excluding prices): 2; 09.15.20
Previous (Obsolete) Catalog ID: UF-HS
---
We Also Recommend