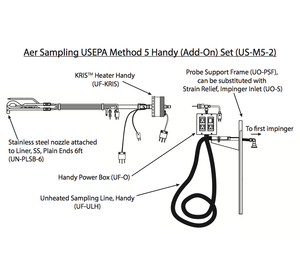 USEPA Method 5 Handy (Add-on) Set
Meets or exceeds the following methods/laws/requirements:
US EPA Method 5:
Section 6.1 (Sample Collection) but excluding section 6.1.3: Gas Density Determination Equipment (Gas Analyzers) and chemicals (silica gel, deionized distilled water, ice, acetone)
Section 6.2 (Sample Recovery - except balances).

Product Description
Start isokinetic sampling (smoke-stack testing) using US EPA Method 5 (Particulate Matter or Dust) upon unpacking. This add-on set uses Aer Sampling's Handy Configuration where the size and weight of the sampling train is further reduced. Ideal for sampling in limited space.
Requires the USEPA Method 5 Basic Set (which uses Aer Sampling's Standard Configuration) to use this add-on set.
Other Applicable Documents:
N.A.
Product Specifications
Minimum porthole inside diameter needed: ~4 in. (10 cm) 
Voltages:
100-127 V / 60 Hz --- S-51
220-240 V / 50 Hz --- S-27

Other Information
All our products come with a one-year warranty against manufacturing defects and one-month technical support for free. Please refer to our Frequently Asked Questions (FAQs) page for more details.


-----
Information presented here is subjected to Aer Sampling Group's terms and conditions. 
In case of discrepancy between English version and the non-English version, the English version shall prevail.
Doc ID: AERHQWW-s-51-en
Last revised (Excluding prices): 0; 03.02.21

| | | |
| --- | --- | --- |
| Catalog ID | Catalog/Product Name | Obsolete Catalog ID(s) |
| S-51 | 100-127V USEPA Method 5 Handy (Add-on) Set | - |
| S-27 | 220-240V USEPA Method 5 Handy (Add-on) Set |  US-M5-2 |

-----
Bill of Materials (BOM)

What does this product contain? (r0/r1):
The following items are included. Click the Catalog ID below to view individual components of this product.
S/N
Catalog ID
Quantity
Item Name
1
PN-328 or PN-873
x1
KRIS Heater (Handy) Assembly

[EACH]

2
PN-331

x1

Handy Power Box Assembly

[EACH]

3
PN-383

x1

Strain Relief Assembly, Impinger Inlet

[EACH]

4
PN-335

x1

Unheated Sampling Line, Handy, 10ft

[EACH]

5
PN-369

x1

6 ft SUS Probe Liner (Type A) Assembly

[EACH]
---
We Also Recommend