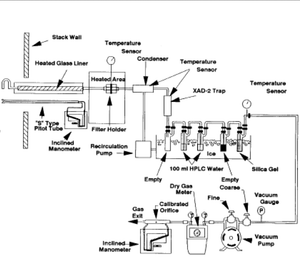 USEPA Method 23 (Add-on) Set
Meets or exceeds the following methods/laws/requirements:
US EPA Method 23:
Section 2.1 (Sampling) but excluding chemicals (silica gel, water, ice, and XAD-2 resin)
Section 2.2 (Sample Recovery) but excluding section 2.2.5 (Balance)

Product Description
Start isokinetic sampling (smoke-stack testing) using US EPA Method 23 (Dioxins and Furans) upon unpacking. This sampling method is effective to measure Polychlorinated Dibenzo-p-dioxins (PCDD's) and Polychlorinated Dibenzofurans (PCDF's) containing in the flue gas emitted by stationary sources of air pollution.
This set uses Aer Sampling's Standard Configuration where the full-length heating box—MKORTM Heater Box (Hot Box), the Box Extender (Riser Box) and the Impinger Box (Cold Box) is hung onto a monorail and move in or out the porthole of the chimney/stack, while traversing the smoke-stack.
Requires the USEPA Method 5 Basic Set (which uses Aer Sampling's Standard Configuration) to use this add-on set.

Other Applicable Documents:
N.A.
Product Specifications
Minimum porthole inside diameter needed: ~4 in. (10 cm) 
-----
Click on the links in the BOM tables below to view the specifications of individual components of this product.

Other Information
All our products come with a one-year warranty against manufacturing defects and one-month technical support for free. Please refer to our Frequently Asked Questions (FAQs) page for more details.


-----
Information presented here is subjected to Aer Sampling Group's terms and conditions. 
In case of discrepancy between English version and the non-English version, the English version shall prevail.
Doc ID: AERHQWW-s-23-en
Last revised (Excluding prices): 0; 03.02.21
Obsolete Catalog ID: US-M23
-----
Bill of Materials (BOM)

What does this product contain? (r4):
The following items are included. Click the Catalog ID below to view individual components of this product.
S/N
Catalog ID
Quantity
Item Name
1
K-154
x1
Horizontal Condenser with Thermocouple Kit [EACH]
2
K-179

x1

Resin Trap Kit 

[EACH]

3
K-170

x1

Knockout Impinger Kit 

[EACH]

4
PN-605

x1

Impinger Connector 

[EACH]

5
PN-342
x4
Ball Joint Clamp S28 

[EACH]

6
K-213

x1

Mini Submersible Pump Kit, 220-240V 

[EACH]

7
PN-351
x10
Submersible Pump Tubing 

[EACH]

8
PN-405

x1

Nozzle Brush, PTFE 

[EACH]

9
PN-390

x1

Wash Bottle, PTFE, 500ml 

[EACH]

10
PN-386
x2
Bottle, Amber Glass, Wide Mouth, PTFE Cover, 1 Liter 

[EACH]

11
PN-392

x1

Graduated Cylinder, Glass, 250ml 

[EACH]

12
PN-411

x1

Air Tight Container, Stainless Steel 

[EACH]

13
PN-409

x1

Aluminum Foil, Heavy Duty 

[EACH]
What does this product need to work? (r4):
Items not included in this set/kit but are needed to make this set/kit works. We assume you already have the items below 
S/N
Catalog ID
Quantity
Item Name
1
S-28
S-48
x1
USEPA Method 5 Basic Set

[EACH]
---
We Also Recommend