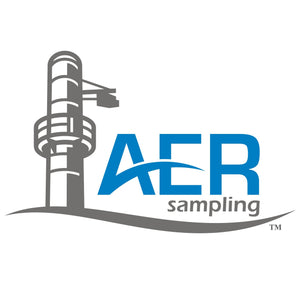 Mini Submersible Pump Kit
Meets or exceeds the following methods/laws/requirements:

Figure 23.1 (Sampling Train - Recirculation Pump), US EPA Method 23
Figure 1 (Schematic of SMVOC Train – Condenser Ice Bath), US EPA SW-846 Test Method 0031
Product Description
A pump that recirculates cooled liquid from an ice bath to a Graham-style condenser (vertical or horizontal), to lower and maintain the temperature of the sampled flue gas passing through the condensers.
Place this pump inside the Impinger Box that is filled with water, or any ice or water bath equivalent, and connect it to the condensers using suitable tubing.


This product connects to the following (non-exhaustive) list of products from Aer Sampling:
PN-351 --- Submersible Pump Tubing
Aer Sampling's 3/8-inch (9.5 mm) ID tubing
Other Applicable Documents:
N.A.
Product Specifications
Outlet (Hose Barb): 3/8-inch (9.5 mm) OD
Voltage: 220-240 V
Weight (Gravitational): lbs / kg
Packing Dimensions (Length x Width x Height):
English (inch): 
Metric (cm):

Other Information
Tubing to condenser is sold separately.
All our products come with a one-year warranty against manufacturing defects and one-month technical support for free. Please refer to our Frequently Asked Questions (FAQs) page for more details.


-----
Information presented here is subjected to Aer Sampling Group's terms and conditions.
In case of discrepancy between English version and the non-English version, the English version shall prevail.
Doc ID: AERHQWW-k-213-en
Last revised (Excluding prices): 0; 12.22.22
Obsolete Catalog ID: -
-----
Bill of Materials (BOM)
What does this product contain? (r1):
The following items are included. Click the Catalog ID below to view individual components of this product.
| | | | |
| --- | --- | --- | --- |
| S/N | Catalog ID | Quantity | Item Name |
| 1 | PN-1509 | x1 | 220-240V Mini Submersible Pump Assembly [EACH] |
| 2 | PN-1499 | x1 | Hose Barb Reducer for Submersible Pump [EACH] |
| 3 | PN-1500 | x6 | PVC Tubing [CM] |
---
We Also Recommend