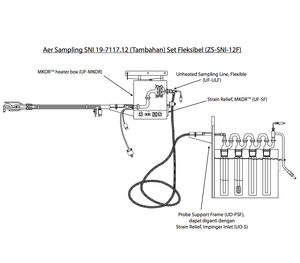 SNI 19-7117.12 Flexible (Add-on) Set --- S-36
Description
To enable sampling using the Aer Sampling "Flexible Configuration" sampling train. Fulfills requirements of Indonesian National Standard SNI 19-7117.12. The "Flexible Configuration" reduces the size and weight of the portion of the sampling train that needs to be supported. Please purchase the SNI 19-7117.12 Standard Set (S-38) to use this add-on set.

--
Information presented here is subjected to Aer Sampling Group's terms and conditions.
Doc ID: AERHQWW-s-36-en
Last revised (Excluding prices): 2; 09.11.20
Previous (Obsolete) Catalog ID: ZS-SNI-12F
_________________________________________________________________________________
Components (r0):
The following items are included. Click Catalog ID to visit individual product page.
S/N
Catalog ID
Quantity
Item Name
1
PN-332
x1
Strain Relief Assembly, MKOR Outlet 

[EACH]

2
PN-383
x1
Strain Relief Assembly, Impinger Inlet

[EACH]

3
PN-334
x1
Unheated Sampling Line, Flexible, 10ft

[EACH]
Required Items (r0):
Items not included in this set/kit but is needed to make this set/kit works. We assume you already have the items below.
| | | | |
| --- | --- | --- | --- |
| S/N | Catalog ID | Quantity | Item Name |
| 1 | S-38 | x1 | SNI 19-7117.12 Standard Set [EACH] |
---
We Also Recommend