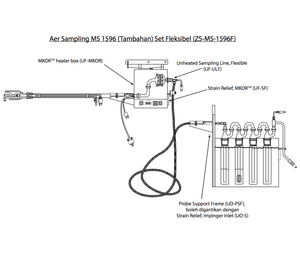 MS 1596 Flexible (Add-on) Set --- S-34
Description
To enable sampling using the Aer Sampling "Flexible Configuration" sampling train. Fulfills requirements of Malaysian Standard MS 1596. The "Flexible Configuration" reduces the size and weight of the portion of the sampling train that needs to be supported. Please purchase the MS 1596 (Dry-Out) Standard Set (S-39) to use this add-on set.
--
Information presented here is subjected to Aer Sampling Group's terms and conditions.
Doc ID: AERHQWW-s-34-en
Last revised (Excluding prices): 2; 09.11.20
Previous (Obsolete) Catalog ID: ZS-MS-1596F
_________________________________________________________________________________
Components (r0):
The following items are included. Click Catalog ID to visit individual product page.
S/N
Catalog ID
Quantity
Item Name
1
PN-332
x1
Strain Relief Assembly, MKOR Outlet

[EACH]

2
PN-383
x1
Strain Relief Assembly, Impinger Inlet

[EACH]

3
PN-334
x1
Unheated Sampling Line, Flexible

[EACH]
Required Items (r0):
Items not included in this set/kit but is needed to make this set/kit works. We assume you already have the items below.
| | | | |
| --- | --- | --- | --- |
| S/N | Catalog ID | Quantity | Item Name |
| 1 | S-39 | x1 | MS 1596 (Dry-Out) Standard Set [EACH] |
---
We Also Recommend