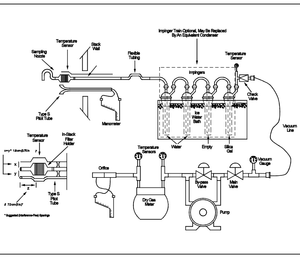 USEPA Method 17 (Add-on) Set --- S-24
Meets or exceeds the following methods/laws/requirements:
US EPA Method 17:
Section 6.1 (Sampling Train) but excluding gas density determination equipment
Section 7.1 (Sampling) but excluding chemicals (silica gel, water, crushed ice, and stopcock grease)
Section 8.1.2 (Preliminary Determinations)

Product Description
Start in-stack isokinetic sampling (smoke-stack testing) using US EPA Method 17 (Particulate Matter or Dust) upon unpacking. This sampling method collects particulate matter from a flue gas emitted by stationary sources of air pollution. Collection of particulate matter occurs inside the stack (in-stack) and at the stack temperature. Thus, a heated glass probe and a heated filtering system are no longer required.
The Impinger Box (Cold Box) is placed on the ground or a smoke-stack platform, separately from the part of the sampling train that is traversing the smoke-stack. No longer need to move this Cold Box when moving in and out of the sampling porthole—which is usually the case in Aer Sampling's Standard Configuration.
Requires the USEPA Method 5 Basic Set to use this add-on set.
Other Applicable Documents:
N.A.
Product Specifications
Minimum porthole inside diameter needed: ~4.7 in. (12 cm)
-----
Click on the links in the BOM tables below to view the specifications of individual components of this product.

Other Information
All our products come with a one-year warranty against manufacturing defects and one-month technical support for free. Please refer to our Frequently Asked Questions (FAQs) page for more details.


-----
Information presented here is subjected to Aer Sampling Group's terms and conditions. 
In case of discrepancy between English version and the non-English version, the English version shall prevail.
Doc ID: AERHQWW-s-24-en
Last revised (Excluding prices): 0; 11.23.20
Obsolete Catalog ID: US-M17
-----
Bill of Materials (BOM)

What does this product contain? (r2):
The following items are included. Click the Catalog ID below to view individual components of this product.
| | | | |
| --- | --- | --- | --- |
| S/N | Catalog ID | Quantity | Item Name |
| 1 | PN-946 | x1 | SUS In-stack Thimble Filter Holder Assembly [EACH] |
| 2 | K-205 | x1 | Pitot Tube Tip Replacement Kit [EACH] |
| 3 | PN-1111 | X1 | 25x90 mm Thimble Glass Fiber Filters, 25pc/box [EACH] |
| 4 | PN-1389 | x1 | S-type Extended 302 Offset Pitot Tube Tip Assembly [EACH] |
| 5 | PN-1394 | x1 | O-ring, Silicon Rubber 394 [EACH] |
| 6 | PN-331 | x1 | Handy Power Box Assembly [EACH] |
| 7 | PN-333 | x1 | Strain Relief Assembly, In-stack Filter [EACH] |
| 8 | PN-335 | x1 | 10 ft Unheated Sampling Line, Handy [EACH] |
| 9 | PN-371 | x1 | 6 ft SUS Probe Liner (Type B) Assembly [EACH] |
| 10 | PN-383 | x1 | Strain Relief Assembly, Impinger Inlet [EACH] |
---
We Also Recommend