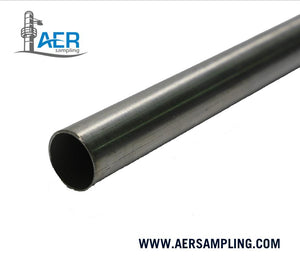 SUS Probe Liner (Type A) Assembly
Description
The surface that actually comes into contact with the flue gas sampled from chimneys/stacks. Inserted into probe heater and then probe sheath to use. Order the right type to fit different configurations (Aer Sampling's Standard, Flexible, Handy) or different equipment.


Specifications/Material/Measurements:
316 Stainless Steel
4ft or 6ft
Head (Upstream/nearer to stack): Plain end
Tail (Downstream/further from stack): Plain end 
Purpose and how to use? Relationship to other products?
316 stainless steel probe liners may be used for stack temperatures up to about 650ºC (1200ºF).
Relevant texts/methods/requirements:
Section 6.1.1.2 (Probe Liner), USEPA Method 5
Page 23, APTD-0581: Constructions Details of Isokinetic Source Sampling Equipment
Additional ordering/shipping procedures:
None. Please refer to the FAQs page for shipping and other charges.

--
Information presented here is subjected to Aer Sampling Group's terms and conditions.
Doc ID: AERHQWW-pn-368-en
Last revised (Excluding prices): 2; 08.11.20
| | |
| --- | --- |
| Catalog ID | Previous (Obsolete) Catalog ID |
| PN-368 | UN-PLSB-4 |
| PN-369 | UN-PLSB-6 |
---
We Also Recommend