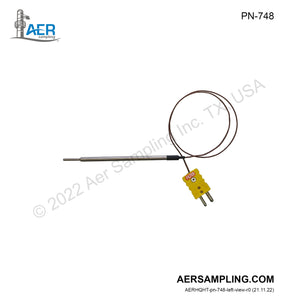 6 inch Straight Thermocouple --- PN-748
Meets or exceeds the following methods/laws/requirements:
N.A

Product Description
A thermocouple probe to measure temperature during sampling. Insert this probe into your desired points (filter holder, collection flask, etc.) to start measuring temperature.
Can be inserted into a double L connector which connects to the filter holder to measure the filter temperature in Aer Sampling's US EPA Method 5 Standard Configuration. 


This product connects to the following (non-exhaustive) list of products from Aer Sampling:
PN-607 --- Double L Connector
Other Applicable Documents:
N.A.
Product Specifications
Outer Diameter (OD): 1/4 inch (6.35 mm)
Thermocouple type: Type K
Material: SUS304 Stainless steel
Weight (Gravitational): 0.1 lbs / 0.05 kg
Packing dimensions (Length x Width x Height):
English (inch): 8.3 x 3.5 x 0.6
Metric (cm): 21.0 x 9.0 x 1.5

Other Information
Thermocouple Screw Cap and Thermocouple Sealing Ring are sold separately.
For a complete thermocouple assembly, you may want to consider K-175 --- Thermocouple Assembly for Double L Connector Kit
All our products come with a one-year warranty against manufacturing defects and one-month technical support for free. Please refer to our Frequently Asked Questions (FAQs) page for more details.


-----
Information presented here is subjected to Aer Sampling Group's terms and conditions.
In case of discrepancy between English version and the non-English version, the English version shall prevail.
Doc ID: AERHQWW-pn-748-en
Last revised (Excluding prices): 0; 01.04.20
Obsolete Catalog ID: -
---
We Also Recommend