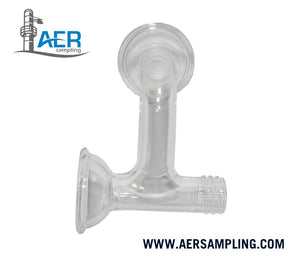 Double L Connector --- PN-607
Description
To connect glass filter holder in MKOR Heater Box to first impinger in Aer Sampling's USEPA Method 5 Standard Configuration. Thermocouple Assembly NOT included.


Specifications/Material/Measurements:
Borosilicate glass
Purpose and how to use? Relationship to other products?
Used in Aer Sampling's Standard Configuration Sampling Train. Goes in between (glass) Filter Holder and first impinger.
Relevant texts/methods/requirements:
Section 6.1.1.6 (Filter Heating System), USEPA Method 5
Section 6.2.4 (Filter housing), ISO 9096:2003(E)
Additional ordering/shipping procedures:
Thermocouple sold separately. Please refer to the FAQs page for shipping and other charges.

--
Information presented here is subjected to Aer Sampling Group's terms and conditions.
Doc ID: AERHQWW-pn-607-en
Last revised (Excluding prices): 2; 08.11.20
Previous (Obsolete) Catalog ID: UG-5
---
We Also Recommend