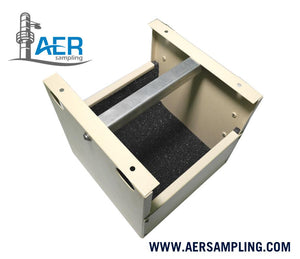 Riser Box Extender Assembly --- PN-326
Description
Attach to a MKORTM Heater Box to make it full length to setup Aer Sampling's USEPA Method 5 Standard Configuration Sampling Train.
Specifications/Material/Measurements:
N.A.
Purpose and how to use? Relationship to other products?
The Standard Configuration is where the full length heating box (MKORTM Heater Box and Box Extender and the Impinger Box) is hang onto a monorail and move in or out the porthole of the chimney/stack.
Not necessary if using Aer Sampling's USEPA Method 5 Flexible Configuration or Handy Configuration sampling trains.
The space inside Aer Sampling's Box Extender can be used to store items while conducting sampling.
Relevant texts/methods/requirements:
Figure 10 (Three-dimensional view of sample box), APTD-0581: Constructions Details of Isokinetic Source Sampling Equipment
Additional ordering/shipping procedures:
None. Please refer to the FAQs page for shipping and other charges.

--
Information presented here is subjected to Aer Sampling Group's terms and conditions.
Doc ID: AERHQWW-pn-326-en
Last revised (Excluding prices): 2; 09.15.20
Previous (Obsolete) Catalog ID: UF-HR
---
We Also Recommend