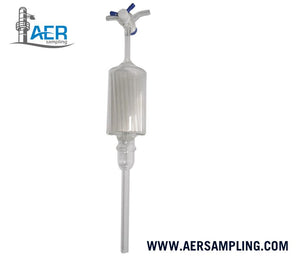 Pipette Insert --- PN-269
Description
Main reaction chamber for the sampled gas in the JENLTM 301 Orsat Analyzer. One required for each of the absorbing solution of Oxygen, Carbon Dioxide and Carbon Monoxide.
Specifications/Material/Measurements:
Borosilicate glass
Purpose and how to use? Relationship to other products?
Insert pipette into pipette bottle to use.
Needs absorbing solution to use. Please refer to manual for more details.
Relevant texts/methods/requirements:
Section 6.3 (Analysis), USEPA Method 3
Section 6.2 (Analysis), USEPA Method 3B
Additional ordering/shipping procedures:
Chemicals are not available for export/sale at the moment.
Please refer to the FAQs page for shipping and other charges.
--
Information presented here is subjected to Aer Sampling Group's terms and conditions.
Doc ID: AERHQWW-pn-269-en
Last revised (Excluding prices): 2; 09.14.20
Previous (Obsolete) Catalog ID: UA-P
---
We Also Recommend