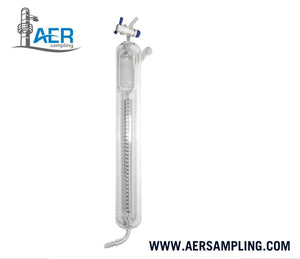 Burette --- PN-267
Description
Replacement burette for the JENLTM 301 Orsat Analyzer.
Specifications/Material/Measurements:
Borosilicate glass
Scale: 0-30mL, 70-100mL in 20ºC
Resolution of scale: 0.1mL in 20ºC
Purpose and how to use? Relationship to other products?
The JENLTM 301 Burette is used to measure the changes in the volume of the sample of gas under test (because of reaction with the absorbing solution) to indicate the percentage of O2 or CO2 or CO in that volume of gas.

The JENLTM 301 Orsat Analyzer is capable of measuring O2 and CO2 and CO directly (not calculated) in percentage levels.

The JENLTM 301 Burette requires a confining solution to operate, please refer to manual for more details.
Relevant texts/methods/requirements:
Section 6.3 (Analysis), USEPA Method 3
Section 6.2 (Analysis), USEPA Method 3B
Additional ordering/shipping procedures:
Chemicals are not available for export/sale at the moment.
Please refer to the FAQs page for shipping and other charges.
--
Information presented here is subjected to Aer Sampling Group's terms and conditions.
Doc ID: AERHQWW-pn-267-en
Last revised (Excluding prices): 2; 09.14.20
Previous (Obsolete) Catalog ID: UA-B
---
We Also Recommend