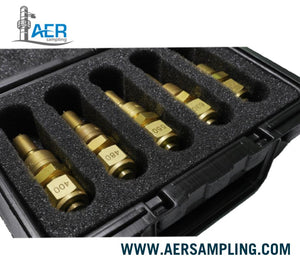 Critical Orifice Kit --- K-150
Meets or exceeds the following methods/laws/requirements:
US EPA Method 5:
Section 16.2.1.1 (Selection of Critical Orifices)
Section 16.2.2 (Critical Orifice Calibration)

Product Description
Critical Orifices are used to calibrate the dry gas meter (DGM) of various metering consoles.
This calibration instrument is approved by the US EPA as calibration standard for calibrating a dry gas meter, in place of the wet test meter stated in Section 16.1 of the US EPA Method 5, provided that the critical orifices are selected, calibrated, and used in accordance with the instructions included in Section 16.2.1 of the US EPA Method 5.

This product connects to the following (non-exhaustive) list of products from Aer Sampling:
Aer Sampling Metering Consoles (sample inlet)
Other Applicable Documents:
N.A.
Product Specifications
Connection: 1/2-inch quick connect
Material: Brass with Ruby orifice
Sizes (nominal):

Catalog ID

Size

Orifice diameter

Choked flow rate


inch
mm
cfm
LPM


PN-738
400

0.0400
1.0160
0.31
8.79
PN-739
480

0.0480
1.2192
0.46
12.97
PN-740
550
0.0550
1.3970
0.60
17.08
PN-741
630
0.0630
1.6002
0.80
22.61
PN-742
730
0.0730
1.8542
1.09
30.94

Weight (Gravitational): 1.5 lbs / ~0.7 kg
Packing Dimensions (Length x Width x Height):
English (inch): 10.0 x 8.0 x 3.0
Metric (cm): 25.2 x 20.1 x 8.0

Other Information
Avoid vibration and/or shock.

Calibration of Critical Orifice 
These critical orifices do not come calibrated. For factory calibration before your first use, please add PN-773 --- Calibration of Critical Orifice into your cart before checking out (for online/website order) or please contact our Regional Sales Office (for offline order).
A calibration certificate will be issued:
The critical orifices are calibrated according to US EPA Method 5 (US CFR Title 40, Part 60, Appendix A, Test Method 5) Section 16.2.2, using a dry gas meter calibrated according to US EPA Method 5, Section 10.3, and other reference instruments with calibrations traceable to the International System of Units (SI).
Aer Sampling recommends calibrating critical orifices at least once a year.
Aer Sampling's critical orifices shall only be calibrated in vacuum mode (i.e., critical orifice be upstream of the vacuum pump). Results from calibration in non-vacuum modes (i.e., critical orifice is downstream of the pump; pump is pushing gas into the critical orifice) are not comparable. Critical orifice must reach critical conditions to be usable.

Manufacturing Warranty and Technical Support
All our products come with a one-year warranty against manufacturing defects and one-month technical support for free. Please refer to our Frequently Asked Questions (FAQs) page for more details.


-----
Information presented here is subjected to Aer Sampling Group's terms and conditions.
In case of discrepancy between English version and the non-English version, the English version shall prevail.
Doc ID: AERHQWW-k-150-en
Last revised (Excluding prices): 1; 08.22.22
Obsolete Catalog ID: PN-324, UC-OK
-----
Bill of Materials (BOM)
What does this product contain? (r2):
The following items are included. Click the Catalog ID below to view individual components of this product.
S/N
Catalog ID
Quantity

Item Name

1
PN-738

1x

Critical Orifice Assembly, Size 400 

[EACH]

2
PN-739

1x

Critical Orifice Assembly, Size 480 

[EACH]

3
PN-740

1x

Critical Orifice Assembly, Size 550 

[EACH]

4
PN-741

1x

Critical Orifice Assembly, Size 630 

[EACH]

5
PN-742

1x

Critical Orifice Assembly, Size 730 

[EACH]

6
PN-285

1x

Box, Critical Orifice, Assembly [EACH]
---
We Also Recommend