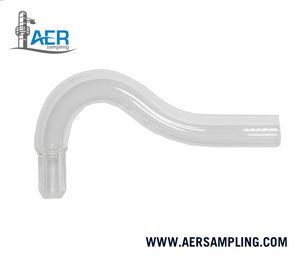 Borosilicate Glass Nozzle
Meets or exceeds the following methods/laws/requirements: 
Section 6.1.1.1 (Probe Nozzle), USEPA Method 5
Section 6.2.2 (Set of entry nozzles) and Annex A, ISO 9096: 2003(E)
Section 2.1.1 (Nozzle), USEPA Method 23

Product Description
An individual sampling glass nozzle. A nozzle is the part of the sampling train in which the sampling flue gas enters and also the section of the sampling train that enters into the smoke-stack/chimney. Ideally, the sampled gas should have the same velocity as the flue gas inside the stack (Isokinetic sampling ratio = 100%). This means that the nozzle size you use is determined by the velocity of the smoke-stack gas. Figure D.1, Annex D, ISO 9096:2003(E) is a good illustration of this.


This product connects to the following (non-exhaustive) list of products from Aer Sampling:
K-191 --- 16 mm Nozzle Fitting Kit
K-192 --- Reducing Nozzle Fittings Kit
Aer Sampling Glass Probe Liner (Type D) Kit
Aer Sampling SUS Probe Liner Assemblies
Aer Sampling In-stack Thimble Filter Holder Assembly
Other Applicable Documents:
N.A.
Product Specifications
Minimum porthole inside diameter needed = ~4 in. (10 cm)
*Inside diameter is measured after the nozzles are attached to a standard Aer Sampling USEPA Method 5 probe sheath
Nozzle sizes (nominal):
Catalog ID

Nozzle tip ID

Nozzle end OD

inch (fraction)

inch (decimals)

mm

inch

mm

PN-610

1/8

~0.125

3

0.6

16

PN-611

13/64

~0.200

5

0.6

16

PN-612

15/64

~0.250

6

0.6

16

PN-491

5/16

~0.330

8

0.6

16

PN-614

23/64

~0.375

9

0.6

16

PN-615

7/16

~0.440

11

0.6

16

PN-616

15/32

~0.500

12

0.6

16

Material: Borosilicate glass
Weight (Gravitational): lbs / kg
Packing Dimensions (Length x Width x Height):
English (inch): 
Metric (cm): 

Other Information
Empty Glass Nozzles Box and Nozzle Fittings Kit are sold separately.
Consider buying additional glassware in case of accidental breakage during sampling.
All our products come with a one-year warranty against manufacturing defects and one-month technical support for free. Please refer to our Frequently Asked Questions (FAQs) page for more details.
-----
Information presented here is subjected to Aer Sampling Group's terms and conditions.
In case of discrepancy between English version and the non-English version, the English version shall prevail.
Doc ID: AERHQWW-pn-610-en
Last revised (Excluding prices): 0; 12.09.21

| | | |
| --- | --- | --- |
| Catalog ID | Catalog/Product Name | Obsolete Catalog ID(s) |
| PN-610 | 0.125 inch (3 mm) Borosilicate Glass Nozzle | PN-360, UN-G-4 |
| PN-611 | 0.20 inch (5 mm) Borosilicate Glass Nozzle | PN-479, UN-G-6 |
| PN-612 | 0.25 inch (6 mm) Borosilicate Glass Nozzle | PN-480, UN-G-8 |
| PN-491 | 0.33 inch (8 mm) Borosilicate Glass Nozzle | PN-481, UN-G-10 |
| PN-614 | 0.375 inch (9 mm) Borosilicate Glass Nozzle | PN-482, UN-G-12 |
| PN-615 | 0.44 inch (11 mm) Borosilicate Glass Nozzle | PN-483, UN-G-14 |
| PN-616  | 0.50 inch (12 mm) Borosilicate Glass Nozzle | PN-484, UN-G-16 |
---
We Also Recommend