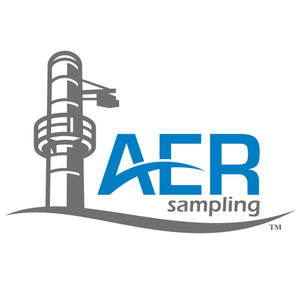 SUS Probe Liner (Type C) Assembly
Meets or exceeds the following methods/laws/requirements:
Section 6.1.1.2 (Probe Liner), US EPA Method 5

Product Description
Aer Sampling's stainless steel Probe Liner for isokinetic sampling. An excellent solution for sampling at higher smoke-stack temperatures (> 900 ºF/500 ºC).
Probe Liner is the surface that actually comes into contact with the flue gas sampled from the smoke-stacks/chimneys. It is frequently used together with a Probe Heater and a Probe Sheath. The Probe Liner is inserted into the Probe Heater, and the Probe Heater is inserted into the Probe Sheath. A sampling nozzle is then attached to both the Probe Sheath and the Probe Liner.


This product connects to the following (non-exhaustive) list of products from Aer Sampling:
K-191 --- 16 mm Nozzle Fittings Kit
K-157 --- Glass Nozzle Kit
K-165 --- SUS Nozzle Kit
K-180 --- Cyclone Bypass Kit
K-189 --- Filter Bypass Kit
PN-334 --- Unheated Sampling Line, Flexible
PN-329 --- Low Dust Filter Holder Assembly
Aer Sampling Probe Heaters
Aer Sampling Probe Sheaths 
Other Applicable Documents:
N.A.
Product Specifications
Connections
Head (Upstream/facing the stack): Plain end; 5/8 inch (~16 mm) OD
Tail (Downstream/further from stack): S29 ball joint
Material: 316 Stainless Steel
Product Dimensions

Length (nominal from tip to tail):
| | |
| --- | --- |
| English (ft) | Metric (m) |
| 4 | ~1.22 |
| 6 | ~1.83 |

Weight (Gravitational): 
4 ft Liner: lbs / kg
6 ft Liner: lbs / kg
Packing dimensions (Length x Width x Height):
4 ft Liner:
English (ft):
Metric (m): 
6 ft Liner:
English (ft):
Metric (m):

Other Information
Order the right type to fit various Aer Sampling's sampling configurations (Standard, Flexible, and Handy) or different equipment.
Order Probe Heater, Probe Sheath, and accessories (O-ring etc.) separately.
All our products come with a one-year warranty against manufacturing defects and one-month technical support for free. Please refer to our Frequently Asked Questions (FAQs) page for more details.


-----
Information presented here is subjected to Aer Sampling Group's terms and conditions.
In case of discrepancy between English version and the non-English version, the English version shall prevail.
Doc ID: AERHQWW-pn-1142-en
Last revised (Excluding prices): 1; 09.13.22

| | | |
| --- | --- | --- |
| Catalog ID | Catalog/Product Name | Obsolete Catalog ID(s) |
| PN-1142 | 4 ft SUS Probe Liner (Type C) Assembly | - |
| PN-1143 | 6 ft SUS Probe Liner (Type C) Assembly | - |
---
We Also Recommend